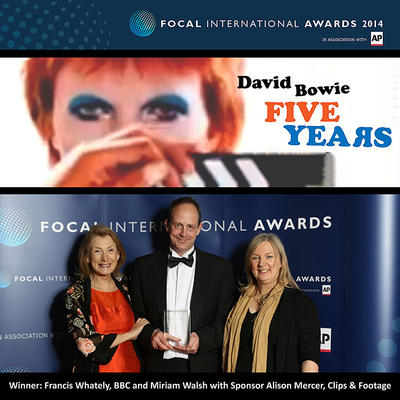 30 APRIL 2014





Five Years wins again at 2014 Focal International Awards



"Got to keep searching and searching"

Hot on the heels of the BAFTA won last week, further congratulations are due to director Francis Whately and Archive Researcher Miriam Walsh for their work on the remarkably good BBC 2 documentary, David Bowie - Five Years: The Making Of An Icon.
The film won the Award for Best Use of Music Performance Footage at a ceremony this evening.



Award for Best Use of Music Performance Footage





David Bowie - Five Years
BBC Events Production | UK
• Producer/Director: Francis Whately
• Footage Archive Researcher(s): Miriam Walsh
• Top 5 Source(s) of Library Footage Used in Production: AVRO Broadcasting Sales (Netherlands), Mick Rock, Daphne Productions, Soul Train Holdings, LLC, NHK and all the archives who supported the project

David Bowie - Five Years is an intimate portrait of five seminal years in the musician's career. The film looks at how Bowie evolved from 'Ziggy Stardust', to the 'Soul Star' of Young Americans, to the 'Thin White Duke'; then at the critically acclaimed albums Low and Heroes; and finally explores his triumph with Scary Monsters and his global success with Let's Dance. Using an extraordinary wealth of previously unseen archive from collections around the world, and interviews with of all his closest collaborators, David Bowie - Five Years presents a unique account of why Bowie has become an 'icon of our times'. The film was crafted using long-forgotten archive footage, rare vintage performances and out-takes from period promos and films. The material was sourced from all over the world and included 'lost' BBC footage as well as rushes from rehearsals and home movies. To discover new material of an artist of Bowie's stature was remarkable, it added to the sense that we were giving the audience a rare treat. Many performance out-takes were mute and synched up with bootleg and gig audio of the same period. Bowie words which drove the narrative were culled from interviews broadcast throughout his career. This unique footage intercut with contemporary interviews from Bowie's key collaborators made this film one of the most acclaimed documentaries of 2013.
davidbowie.com