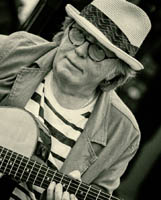 John 'Hutch' Hutchinson



These days I am still a guitar player (shamelessly still the 'ex-Bowie veteran guitarist' on the gig posters) and luckily I still have an audience for my own music, even in my 'old age'. I live a quiet life (most of the time) in the open space of the East Yorkshire Wolds, and I have had time to reflect and write this memoir.

This is my story as a guitarist and friend of David Bowie in the good old days and my book includes my memories of my times with David during his musically formative years with David Bowie & The Buzz in 1966 in The Marquee Club and with Feathers (Bowie, Hutch and Hermione) in 1968 as well as my first-hand account of the Ziggy Stardust and The Spiders from Mars groundbreaking Aladdin Sane USA, Japan and UK tours in 1973 when I played 12 string guitar as an 'auxiliary' Spider. I played my part, my supporting role in the earlier days of The David Bowie Story, we both were young and he was my mate, never just my employer. So it's my story too, it's our story, the Bowie & Hutch story.


---
Title
Genre
Pages
Formats available
Cover design
Published
Product Dimensions:
ISBN-10:
ISBN-13:
Bowie & Hutch
Autobiography
380
Paperback
Hayley Forrest
June 2014
5.83 x 8.26 in
1291904031
978-1291904031



"Hutch's story is a fabulous journey that takes him from hometown Scarborough to the Marquee Club in London 1966 to the Hammersmith Odeon Farewell concert 1973 - via Tokyo, New York and Los Angeles. From a 'buzz around London' to worldwide hysteria… in the company of David Bowie. Jealous? Me?"



Marc Riley, BBC Radio 6 Music



"You know I think the story is a great rock biography as Hutch helped one of the great innovators of 20th century music."



Dr Rock, BBC Radio York

(aka Charles White, author of one of David Bowie's 'Top 100 favourite books' The Life and Times of Little Richard. 1984.)



Lodge Books