lunamagic
Administrateur





Hors ligne



Inscrit le: 09 Mar 2011
Messages: 6 005

Posté le: Dim 20 Juil - 09:40 (2014)

 

   Sujet du message: Momus tribute to Bowie at Café Oto in September

---





19 JULY 2014





Momus tribute to Bowie at Café Oto in September



"Only one man could be seen"

Since his cover of Where Are We Now? released on the same day as Bowie's original last year, Momus has graced these pages more than once.
On September 13th 2014, he will perform a cabaret featuring the songs of David Bowie live at London's Cafe Oto.
In preparation for the gig and along with the Bowie covers Momus has already uploaded to YouTube, he has posted another six Bowie covers in the shape of: DJ, Joe The Lion, Candidate, The Bewlay Brothers, Letter to Hermione and Conversation Piece, all in the last week.
We caught the Momus show at Cafe Oto back in March when he performed a brilliantly bonkers set peppered with Bowie references, including a histrionic version of Ashes To Ashes and a kind of mash-up of Fantastic Voyage over a backing of Boys Keep Swinging, called Fantastic Swinging.
He even referenced the closing moments of Bowie's performance of Boys Keep Swinging on the Kenny Everett Video Show in 1979, which our exclusive image of Momus also alludes to.
Here follows a lovely tribute from the absurdly prolific Momus regarding An Evening with Dybbuk Momie - A Cabaret Featuring the Songs of David Bowie



"David Bowie is the cultural figure without whom I as Momus simply wouldn't have existed: a genius, a massively liberating presence producing prolifically throughout five decades, an enthusiastic index of cultural connections, a sort of internet-before-the-internet. Like the dybbuk of Jewish mythology, Bowie is a sum of stolen souls, a collection of all the most impressive gestures and talents of cultural figures he's encountered and been smitten by. I want to make an unashamedly dark and leftfield take concentrating on the early cabaret work, the demos, the flickering shadows of Brecht and Brel, the avant-garde and eccentric moments, the symphonic poems. Songs Bowie has never performed live himself will be unfurled in unexpected yet faithful new readings, accompanied by video projections showing the many imitators whose souls the great dybbuk has so wonderfully spirited away."


Go here for more information and to book tickets for both the Bowie tribute on the 13th and the Momus tribute to Howard Devoto on the previous evening.

davidbowie.com


Jack Sikora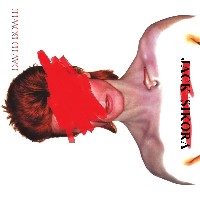 Hors ligne



Inscrit le: 25 Avr 2013
Messages: 678


Localisation: lyon
Posté le: Dim 20 Juil - 11:16 (2014)

 

   Sujet du message: Momus tribute to Bowie at Café Oto in September

---



Aucun reproche à faire pour cette version... mais que font donc ces messieurs tout nus sur la vidéo ???
_________________
Always failing to remember why we came,
I wonder why we came.