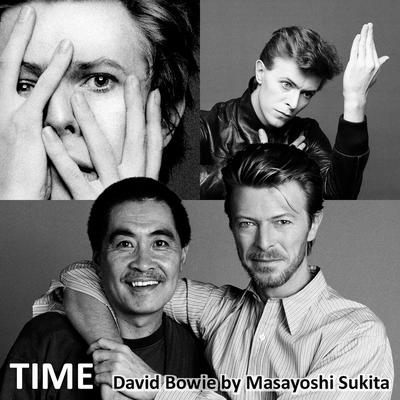 27 NOVEMBER 2014





Bowie/Sukita TIME exhibition in Tokyo next week



"Time, is waiting in the wings"

Tomoya Kumagai has been in touch with details of a short run exhibition launching in Tokyo next Thursday (December 4): TIME - David Bowie by Masayoshi Sukita.
The exhibition runs till the following Tuesday (December 9) and it is free to attend.
Here's the official announcement from Tomoya with links to both English and Japanese versions of the TIME website.


+ - + - + - + - + - + - + - + - + - + - + - + - + - + - + - +



TIME - David Bowie by Masayoshi Sukita



Photographer Masayoshi Sukita, who has shot photographs of David Bowie for more than 40 years, is due to hold an exhibition of his Bowie pictures in Tokyo. The Exhibition is named TIME. It is the "TIME" of Sukita and Bowie no one has known. Everything has changed but Nothing has changed.

The venue is a beautiful space called "Aoyama SPIRAL" located in the centre of Tokyo. The art director is Hideki Nakajima, a famous Japanese designer, who has received NY ADC prizes some times, he has designed many album covers for Ryuichi Sakamoto.

This is an unmissable exhibition of Bowie photographs by Sukita, celebrating the release of Bowie's new song 'Sue (Or In A Season Of Crime)' and the new compilation 'Nothing has changed - The Very Best of David Bowie'.



Website

:


TIME: English




TIME: Japanese





Exhibition details

:


When

: 4th (Thu) - 9th (Tue), December


Where

: Aoyama Spiral Garden 1F (5-6-23 Minami-Aoyama, Minato-ku, Tokyo)
(http://www.spiral.co.jp/en/)


Admission

: Free


Art Director

: Hideki Nakajima (NAKAJIMA DESIGN http://www.nkjm-d.com)


Producer

: Tomoya Kumagai (SLOGAN http://www.slogan.co.jp/) With the partnership with TOKYO Lithmatic Corporation and Werner Music Japan

+ - + - + - + - + - + - + - + - + - + - + - + - + - + - + - +

Picture credits, clockwise from top left

1. 1977 - Time: (c) Masayoshi Sukita 1977
2. 1977 - HEROES: (c) 1977 / 1997 Risky Folio, Inc. Courtesy of The David Bowie Archive (tm)
3. 1989 - Sukita and Bowie by Mark Higashino: (c) Mark Higashino 1989

davidbowie.com