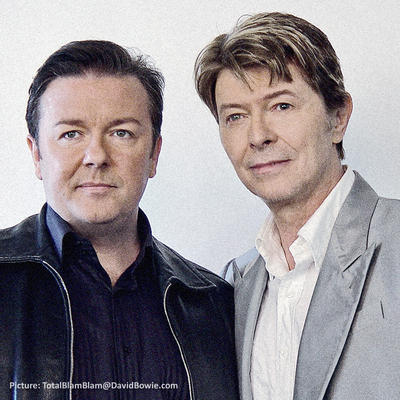 10 DECEMBER 2015





Bowie gives Slough the thumbs up



"No one's bloody laughing"

David Brent of The Office is set to return to cinema screens in August next year with his new feature film, Life On The Road.
Creator of the character, Ricky Gervais (who also played Brent in the original TV series), has been speaking to NICK LEVINE at the NME about the film, the musical content and how Bowie responded to the David Brent classic, Slough.
Here's an edited excerpt from the interview...


+ - + - + - + - + - + - + - + - + - + - + - + - + - + - +

Ricky Gervais has revealed that David Bowie has endorsed 'Slough', a new David Brent song that the 'Space Oddity' singer helped to inspire.

"Usually I write these songs with someone in mind that Brent's ripping off. So 'Free Love Freeway' was meant to be like a Springsteen song, and 'Slough' was meant to be like a Bowie or Radiohead song," Gervais explained.

Gervais then discussed the possibility of asking other artists to put their own stamp on Brent's new material. "It might be good to wipe my vocal and get someone to do them to do it for charity - like Bowie singing 'Slough'," he suggested. "I sent it to him and he said, 'It's great. I'd like to see a whole album of you singing about towns of Great Britain.' But imagine him singing [the lyrics from 'Slough]: "More convenient than a Tesco Express / Close to Windsor but the property's less."

+ - + - + - + - + - + - + - + - + - + - + - + - + - + - +

Read the full NME piece here.

Judge for yourself just how much the song sounds Bowie inspired here.
Life On The Road is set for release in UK cinemas on August 19, 2016.



FOOTNOTE

: Our picture is of Gervais and Bowie on the set of Extras, wherein Bowie performed the Bowie/Gervais/Merchant-penned The Little Fat Man (With The Pug-Nosed Face), the source of today's lyric quotation. Judging by their expressions, they're probably both looking at Slough.



#BowieGervais #DavidBrent #RickyGervais #Slough



davidbowie.com