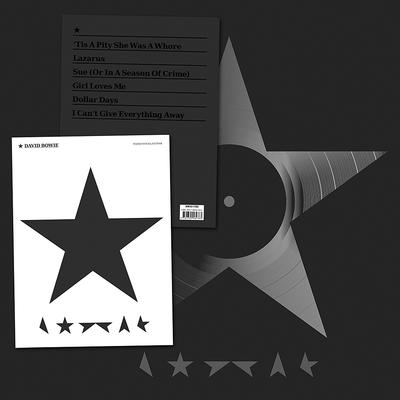 15 APRIL 2016





★ is best-selling vinyl album of 2016 so far



"I'm a Blackstar"

On the eve of the celebration of vinyl that is Record Store Day, David Bowie's ★ has been declared the best-selling vinyl album on the UK's Official Vinyl Chart for the first quarter of 2016.
The chart, which was launched one year ago this week, saw ★ (Bowie's 28th studio album), spend the longest time at Number 1, logging six weeks at the top spot.
David Bowie left his mark on the vinyl singles chart during the first year of the chart too, with four singles in the Top 10:


Golden Years (3)
Space Oddity (5)
Fame (6)
Changes (8)

Those four tracks all hit the top spot, keeping Bowie at the chart's peak for 12 weeks in total.

Martin Talbot, Chief Executive of the Official Charts Company said:


"As we celebrate the first birthday of the Official Vinyl Charts, it is encouraging to see the resurgence of this much-loved format continuing at pace in 2016.
"It is entirely fitting that Bowie's final release, Blackstar, is the album that Britain's vinyl shoppers have taken to their heart in droves so far this year, proving the Starman's lasting impact on the charts, and the nation's record collections, for undoubtedly many more years to come."

Read the full article here.

Finally, the ★ sheet music songbook is now available for purchase from your favourite sheet music emporium.



#Blackstar #imablackstar #BlackstarAlbum #BowieOCC #BowieVinyl



davidbowie.com