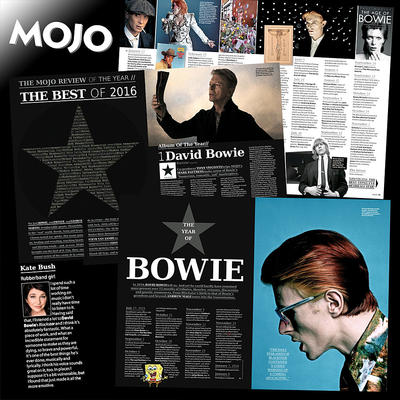 23 NOVEMBER 2016





★ is MOJO's album of 2016



"That's the message that I sent"

In the week that David Bowie's ★ re-enters the Official Vinyl Albums Chart Top 10 at #9 (18 November 2016 - 24 November 2016), MOJO magazine in the UK has made the record their Album Of The Year, 2016. Congratulations to all involved in the creation of ★ and thanks to all of you who helped make the album such a big success.

Following the full-page appreciation of ★, wherein Mark Paytress talks about the album with Tony Visconti, there's a four-page timeline of 'The Year Of Bowie' by Andrew Male.

Elsewhere, that other ex-pupil of Lindsay Kemp, Kate Bush, singles out ★ in a section titled: The Best Thing I've Heard All Year.

Kate also sang Bowie's praises in an interview with The FADER, here's an excerpt...


FADER: What contemporary artists do you admire?



KB: I don't listen to a lot of contemporary music, especially when I'm working. I tend to watch films or do other stuff. But one of the most powerful things that I heard recently was Blackstar by Bowie. I thought it was beautiful. Very moving of course, but I think one of the best things he's ever done.

FADER: You wrote a beautiful tribute to Bowie after he passed away. What was your relationship with him like?[/b]

KB: Well I was asked whether I would write something, and because he meant such a lot to me, I really felt moved to do so. He was one of my great heroes when I was growing up. He was such a brave artist, so unusual, and I loved his music. I met him a few times; he was really charming and playful. But I just sort of admired what he achieved creatively.



FADER: Bowie always challenged gender norms, which I think your work does too.



KB: Oh, thank you. I think when I'm working creatively, I don't really think of myself of writing as a woman. I just think of writing as me, as a person, if that makes sense.


Read the full thing here.

The January 2017 issue of MOJO is out now.




#BowieMOJO #BowieBlackstar #Blackstar



davidbowie.com