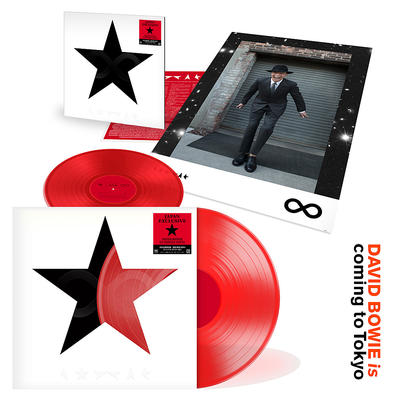 15 DECEMBER 2016





DAVID BOWIE is exclusive Japanese ★ 12"



"I'm a take you home (I'm a blackstar)"

Alongside the Lady Stardust/Crystal Japan 7" 45 picture disc produced to coincide with the Japanese opening of DAVID BOWIE is in Tokyo on January 8th, 2017, a limited edition, transparent red vinyl 12" single of ★ will also be made available exclusively through the DAVID BOWIE is exhibition shop at the same time.

The 12" vinyl single (Catalogue number: SCJ7 1), features the following 3 tracks from the ★ album...



A-side


Blackstar (album version)



B-side


Lazarus (radio edit)
I Can't Give Everything Away (radio edit)


This limited edition red vinyl single (produced in Japan), will be accompanied by an exclusive poster of one of Jimmy King's beautiful photographs of David (size: 590 mm x 884 mm). It will also include lyrics, translation of lyrics and liner note, and will be the very first physical single to be released from the ★ album.

Long-term Bowie designer, Jonathan Barnbrook, had this to say about the design...



"I try to do something that is worthy of David Bowie, one of the greatest artists of the past century. I am always mindful of what his fans would like. For this, because the design is so simple, it needs to be perfect even with the smallest of details. The infinity symbol (∞) that appears when you take the record out of its sleeve, was very important. It symbolises the desire of him wanting to live forever in I Can't Give Everything Away and also that we have his music forever even though he is no longer with us."


Pedants might like to note, that despite the impression given otherwise by our graphic mock-up, this 12" will only feature the 3 tracks listed above.

Go here for DAVID BOWIE is in Tokyo exhibition information and ticket links.




#ボウイ展 #DBisTokyo #BowieTokyo #DavidBowieIs #BowieVinyl #BowieBarnbrook #BarnbrookBowie



davidbowie.com