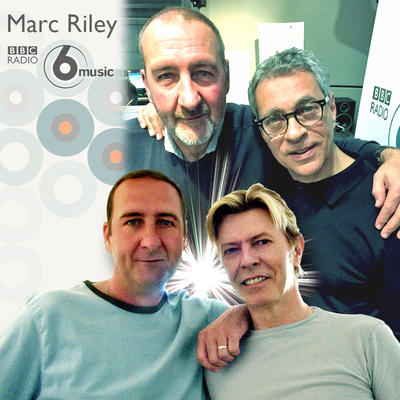 4 FEBRUARY 2017





Marc Riley's DB Deep Cut Of The Day



"It's all I ever wanted"

As you are no doubt well aware, Marc Riley has long flown the Bowie flag very high at the BBC over the years. His loyalty was rewarded directly many times via interviews and even a radio session in October 1999 for the show that Marc co-hosted with Mark Radcliffe. The pair also introduced Bowie onstage a couple of times. Marc also had the last ever radio interview with DB.

Now Marc has kindly supplied us with his DBDCOTD, and, as one might suspect, it wasn't an easy choice for a fan raised on a diet of all things Bowie since 1972, as he explains...



+ - + - + - + - + - + - + - + - + - + - + - + - + - + - +

"My 'favourite Bowie tune' in some way mirrors the dilemma I face when asked for my 'favourite Bowie album', simply because my opinion changes with the wind. Sometimes it'll be Station to Station, sometimes it'll be Somebody Up There Likes Me…or Win… or Time… or… Star…or...

You see my problem.

When I did the tribute to David following his passing last January I opened with a song that captured the glory and dark euphoria of the mid-70's David Bowie. Station To Station. It swaggers like no other and was a good choice for that particular scenario. It's nigh on 12 minutes long and gave me time to brace myself for what was going to be a very difficult show.

One year later and I found myself hosting another tribute to David, this time in the company of the great man that is Geoff MacCormack - aka backing singer, sometime co-writer, and dancer, Warren Peace. On this occasion I decided to go for another Bowie song - or 'suite' to be more precise' that never fails to thrill me. Its genius floors me every single time - often to the point of tears. (If you find this hard to believe remember John Peel said Teenage Kicks by The Undertones made him weep like a baby - even though it isn't sad). I'm talking about Sweet Thing/Candidate/Sweet Thing (reprise) from Diamond Dogs. It's a nine minute self-contained Rock Opera. So Brilliant.

Sat opposite Geoff as the show went live, the moody opening gave way to the magnificence of the song and I then realised I'd made a very bad mistake. As I got deeper and deeper into the evocative masterpiece I welled up at its beauty and very nearly lost it. Very nearly lost it…which in the company of David's lifelong grieving friend would have been nothing less than unforgivable. Thankfully I just managed to keep it together and Geoff's brilliant and funny memories kept me afloat for the duration. Thanks Geoff.

I remember hearing Jarvis Cocker play just the opening song of the trilogy on 6 Music and I immediately texted him and told him this simply wasn't allowed. You either play all 3 songs back to back - or not at all. He replied with an apology and bless him he played the lot some months later." Marc Riley - January 2017

+ - + - + - + - + - + - + - + - + - + - + - + - + - + - +


Thanks Marc, pretty sure nobody could argue with that choice .

For those that missed Marc's BBC Radio 6 Music show with Geoff (and much more besides, including that hilarious last ever DB radio interview), you have 4 days left to listen if you have access to the BBC.




#DBDCOTD #BowieDeepCut #BowieRiley



davidbowie.com