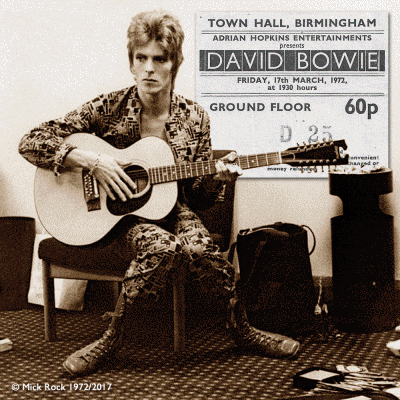 17 MARCH 2017





Mick Rock's first Bowie photo is 45 tonight



"Because you're young - you'll meet a stranger some night"

Right about now (forty five years ago to the hour), the audience at Birmingham Town Hall were among the first people in the UK to experience the life-changing delights of the Ziggy Stardust stage show.

Before our man took to the stage with his merry band of space invaders, Mick Rock had his first meeting with the 25-year-old Bowie. Here's what the Man Who Shot The 70s had to say about that moment.



+ - + - + - + - + - + - + - + - + - + - + - + - + - + - +

That was the first time I met him. In fact, I think this was the very first frame I shot of him. I shot about four frames backstage. In those early days, because of their modest income, magazines would get you to do the words and the pictures.

I do remember a kind of obvious exchange, of David saying "Oh I like your name, mate, is it real?" Because it sounded a bit like a parody. I mean, a photographer called Mick Rock... You couldn't have a performer called that, it would be too much. Besides Mick Jagger had already taken up any space that was allocated to the Micks of this world.

We swapped anecdotes; he wanted to hear about Syd and I wanted to know about Lou Reed and Iggy Pop. We talked about how Syd had had it all. Syd and David were similar in the way that neither of them sang like an American. At that time there was a big American influence on music, but Syd and David went against that and sang in a British way.

David was very aware of Syd; very interested in him. Of course, in 1973 David did a cover version of 'See Emily Play' for his Pin Ups album. There were many parallels between Syd and David early on; although clearly David had a much tougher psyche. David's 'The Man Who Sold The World' always makes me think of Syd. It's a perfect description of him."

+ - + - + - + - + - + - + - + - + - + - + - + - + - + - +


Meanwhile there are just three weeks to go (April 7) till you can see Mick's rockumentary, SHOT!, in cinemas, on demand and via iTunes and Amazon.

Watch the superb trailer for SHOT! over on Apple now.




#BowieMickRock #MickRockFilm #BowieTASCHEN



davidbowie.com