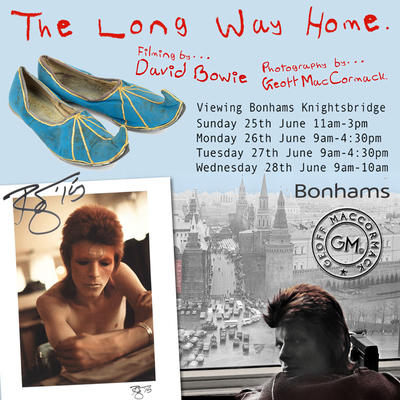 5 JUNE 2017





1973 Bowie film and auction details



"Well I might take a train"

As we told you last month, a signed-by-David Bowie collection of Geoff MacCormack's beautiful Bowie photographs are to be offered as part of Bonhams' Entertainment Memorabilia sale on June 28th.

The images will be on view at Bonhams Knightsbridge saleroom from June 25th till the sale on the 28th, accompanied by a never-before-seen film of Geoff and David's journey from Japan to Moscow (for the 'May Day Parade'), shot by Bowie himself and seen through his eyes, interspersed with MacCormack's photographs. Called: 'The Long Way Home, a film by David Bowie', the short will be screened exclusively at the sale preview in Knightsbridge.



Viewing at Bonhams Knightsbridge:



Sunday 25th June 11am - 3pm
Monday 26th June 9am - 4:30pm
Tuesday 27th June 9am - 4:30pm
Wednesday 28th June 9am - 10am


"That's all well and good," you might say, "But what's with the turquoise fabric with gold thread piping, Turkish-style shoes in the montage?"

Well, that's the actual footwear worn by Bowie's Screaming Lord Byron character during his performance of 'Blue Jean' in the Julien Temple directed 20-minute film, Jazzin' For Blue Jean.

And the shoes are just one of the lots in a whole bunch of exciting auction items up for grabs in the same Entertainment Memorabilia sale.

Go here to download a PDF of the catalogue.

The auction lots of interest are on pages 34 & 35, and then there's Geoff's four pages from 36 to 39, and you might want to check out pages 65 and 80 too.




#TheLongWayHome #GeoffMacBowie #BowieSothebys



davidbowie.com