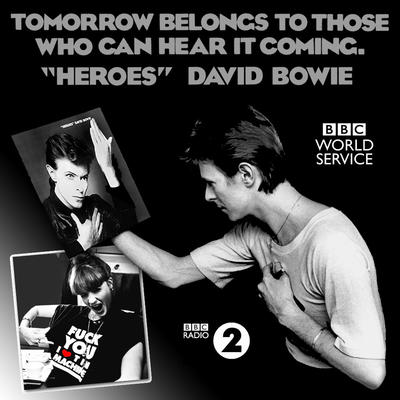 6 OOCTOBER 2017





BBC radio celebrates "Heroes" 40th anniversary



"It's a twenty-four hour world service"

The BBC is marking the 40th anniversary of the release of the "Heroes" LP with a 53-minute documentary presented by Florence Welch of Florence + The Machine. Florence is a big Bowie fan and she doesn't mind who knows how much she loves Tin Machine either. (See inset picture proof)

With contributions from Iggy Pop, Brian Eno and Tony Visconti, the show airs three times on the BBC World Service on Saturday, Oct 7, with the first broadcast at 14:06 and it's repeated on BBC Radio 2 on Tuesday, Oct 10, at 22:00.

We'll leave you with the BEEB's blurb...



+ - + - + - + - + - + - + - + - + - + - + - + - + - + - +

David Bowie's "Heroes" 40th Anniversary
Music Extra

Florence Welch, from the British band Florence + The Machine, marks the 40th anniversary of the release of David Bowie's seminal "Heroes" LP by exploring the personal and musical factors that influenced the album's writing and recording in Berlin in 1977.

Florence will feature archive of the late David Bowie explaining why he chose to live and work in Berlin and the impact the city's history had on the masterpiece he created. She'll also meet the album's producer Tony Visconti to get an insight to the unique recording techniques he employed to interpret Bowie's creative vision and how the characteristics of the famous Hansa Studios, which are situated in a huge former chamber music concert hall, contributed to the album's influential sounds. Iggy Pop, who was living with Bowie in Berlin during the recording of the album, recalls how a battle with drug addition, bankruptcy and a legal dispute with his ex-wife for access to his son all provided inspiration for the album's lyrics and Brian Eno, who collaborated with David throughout the LP's recording, explains the unique musical structures he and David employed to compose the innovative songs.

Berlin's radical cultural diversity had always fascinated Bowie and Florence will explain how the opportunity to live and work in the city during the turbulent political period prior to the fall of 'the Wall' provided the perfect austere environment for David and his collaborators to experiment with music inspired by several German techno bands of the 70's, including Neu!, Kraftwerk and Can.

+ - + - + - + - + - + - + - + - + - + - + - + - + - + - +
#BowieAtTheBEEB #BowieBBC #BowieHeroes
davidbowie.com