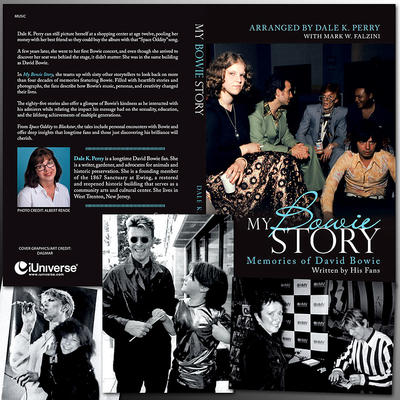 7 OCTOBER 2017





My Bowie Story - fans remember their Bowie



"FANtastic Voyage"

My Bowie Story - Memories of David Bowie By Dale K. Perry (ISBN: 9781532030116), is a remarkable selection of stories told by sixty Bowie fans and collected together by Dale K. Perry.

The 316-page book is available now via the publisher, iUniverse and other online book emporiums. Here's the blurb from the back cover...



+ - + - + - + - + - + - + - + - + - + - + - + - + - + - +

Dale K. Perry can still picture herself at a shopping center at age twelve, pooling her money with her best friend so they could buy the album with that "Space Oddity" song.
A few years later, she went to her first Bowie concert, and even though she arrived to discover her seat was behind the stage, it didn't matter: She was in the same building as David Bowie.
In My Bowie Story, she teams up with sixty other storytellers to look back on more than four decades of memories featuring Bowie. Filled with heartfelt stories and photographs, the fans describe how Bowie's music, personas, and creativity changed their lives.
The eighty-five stories also offer a glimpse of Bowie's kindness as he interacted with his admirers while relating the impact his message had on the sexuality, education, and the lifelong achievements of multiple generations.
From Space Oddity to Blackstar, the tales include personal encounters with Bowie and offer deep insights that long-time fans and those just discovering his brilliance will cherish.

+ - + - + - + - + - + - + - + - + - + - + - + - + - + - +


The snaps along the bottom of our montage are of Jasmine and Bowie (J. Storm), David and Zane, 1997 (M. Kanevsky) and David and Sandra (Spidey), 2002 (S. Atkins). Just a small sample taken from the many in the book.

Dale has said that any royalties she receives from the book will be donated in David's memory to charity, most likely to Save the Children.

Stay tuned for more pictures and some excerpts from My Bowie Story - Memories of David Bowie.




#MyBowieStory #BowieKooks #BowieFreaks



davidbowie.com