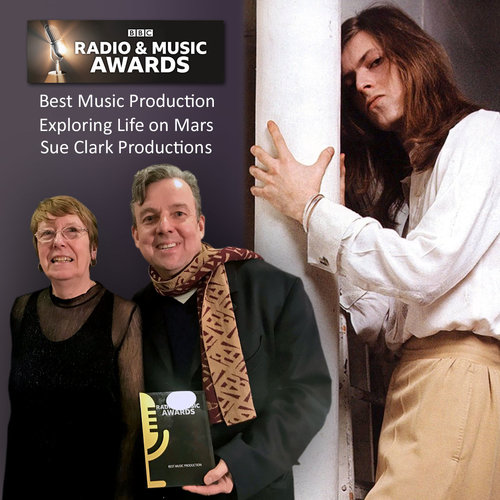 23 MARCH 2018





'Life On Mars?' wins BBC's Best Music Production



"Oh man! Wonder if he'll ever know"

We're sure you remember Tris Penna's fascinating Exploring 'Life On Mars?' documentary, presented by Martin Kemp and originally broadcast on BBC Radio 2 on January 9th, 2017.

Well now the programme has received the accolade it truly deserves at the BBC's Radio & Music Awards on Tuesday evening (March 20).



+ - + - + - + - + - + - + - + - + - + - + - + - + - + - +



BEST MUSIC PRODUCTION



This award recognises creativity and originality in production process as well as new and innovative ways of engaging our audiences.

The programme featured never before broadcast archive recordings, mixes and demos as well as new and archive interviews with band members, sound engineers, friends, fans and music publishers to create an extraordinary music production and a brilliantly narrated story.



The winner is Exploring Life on Mars – Sue Clark Productions.



Presenter:

Martin Kemp



Presenter/Writer & Co-producer:

Tris Penna





This is a Sue Clark Production for BBC Radio 2



+ - + - + - + - + - + - + - + - + - + - + - + - + - + - +

The very lovely Tris Penna had this to say regarding the broadcast: "What was so satisfying about making 'Exploring Life on Mars?' was that I was able to devote a whole hour to what makes DB's music so special. Wipe away the make-up, discard the costumes, forget the record sleeves - and still the music astonishes and is uniquely timeless…".

Mr Penna is pictured here holding the gong with producer Sue Clark. The bloke on the right is the chap who wrote the subject of the documentary, photographed around the time that he did.

Read more about the programme

here

.


#ExploringLifeOnMars #BowieAtTheBBC

davidbowie.com