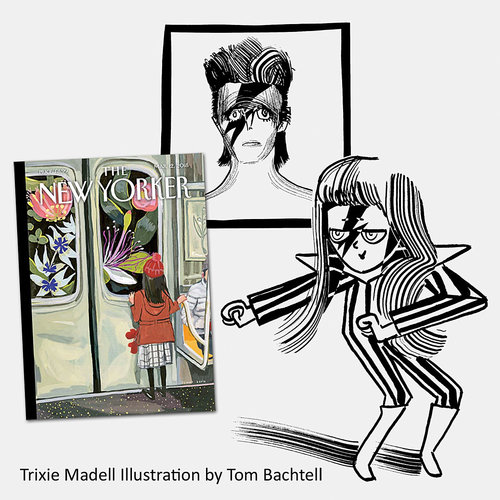 24 MARCH 2018





Bowie Superfan Rates DB is Brooklyn



"She's so swishy in her satin and tat"

Nothing quite like a David Bowie fan who knows their stuff to give an honest opinion of the David Bowie is at the Brooklyn Museum exhibition.

Fourth-grade Bowie superfan, Trixie Madell, recently rated the show after the nine-year-old Ziggy Stardust expert donned sequinned pants and silver Doc Martens to tour the exhibition with her mum.

Here's an excerpt from a great piece in The New Yorker, by Sarah Larson.


+ - + - + - + - + - + - + - + - + - + - + - + - + - + - +

Trixie made her way through the exhibition, admiring a photo of Earth that had helped inspire "Space Oddity" ("From the lunar orbit, not the moon landing"); the video for "Life on Mars" ("I've seen this a bajillion times"); a rigid, doll-like costume that Bowie wore on "Saturday Night Live" ("They had to carry him, because he couldn't move"); a patterned zip-up number ("That's 'Oh, You Pretty Things' "); the crystal ball and sceptre from Jim Henson's "Labyrinth" ("Mommy!"); the keys to Bowie's Berlin apartment ("They look old"); playfully altered stills from "The Man Who Fell to Earth" ("They changed the bathtub water to tiles"); a suit that she correctly identified as being from Mick Rock's "Pin Ups" photos; Bowie's diary entry about writing "Fame" with John Lennon; a Pierrot mannequin ("Isn't that the 'Ashes to Ashes' costume?"). She was uninterested in the "Blue Jean" display—Bowie's post-seventies œuvre is still of less appeal—and avoided the 1969 short "The Mask," involving tights and white face paint. "She's not fond of the mime phase," Dawn said. At the display for "Blackstar," Bowie's final album, lauded by critics but not by Trixie, she politely pointed out an attractive pattern in the black stars.

+ - + - + - + - + - + - + - + - + - + - + - + - + - + - +

Read the full thing

here

.

If Trixie, Dawn or Josh Madell are reading this, please get in touch.



#DavidBowieIs #DavidBowieIsBKM #NewYorkerBowie



davidbowie.com