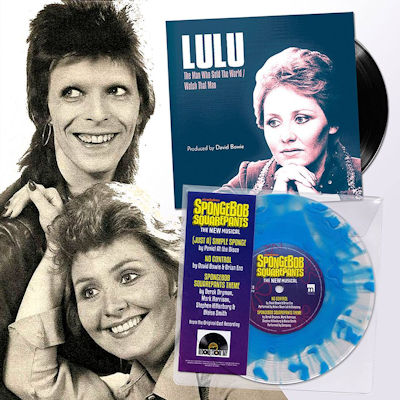 April 21, 2018





RSD 2018 and three Bowie small ones... sort of



"Although I wasn't there, he said I was his friend..."

Great to see so many successful purchases and happy fans this morning. Seems so many of the overnight queues had more than their fair share of Bowie fans participating.

Anyway, did you spot these exclusive RSD 2018 Bowie related 7" vinyl releases while you were hunting?


~ "ORIGINAL CAST OF SPONGEBOB SQUAREPANTS, THE NEW MUSICAL - NO CONTROL"

- (COLOURED VINYL 7", B SIDE FEATURES "NO CONTROL" WRITTEN BY DAVID BOWIE AND BRIAN ENO)



~ "LULU - HEAVEN AND EARTH AND THE STARS"

- (TRANSLUCENT BLUE LP + NUMBERED 7" OF "THE MAN WHO SOLD THE WORLD"/ "WATCH THAT MAN")



~ "MOTÖRHEAD - HEROES"

- (7" HEAVY WEIGHT VINYL PICTURE DISC)

These tracks aren't Bowie per say, but may be of interest to some of you.

Of the three, the Lulu release has the only direct contribution, with Bowie and Mick Ronson very evident on the two Bowie compositions and both sides being produced by the pair. The tracks feature Ronno's unmistakable guitar sound and Bowie on backing vocals and saxophone. Both recordings still sound magnificent 44 years after the original 45 was a #3 single in the UK. And besides, it gave us an opportunity to use this wonderful Kent Gavin photo.

Today is Record Store day at participating independent record stores.




#BowieRSD #RSD2018 #BowieVinyl



davidbowie.com