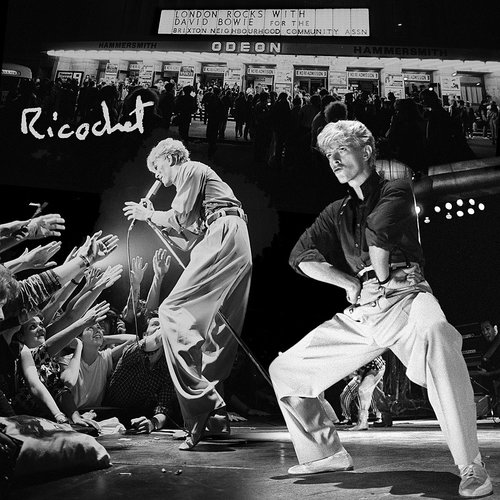 June 30, 2018





Bowie returns to Hammersmith 35 years ago tonight



"Gimme your hands 'cos you're wonderful"

35 years ago tonight and almost ten years since he had retired Ziggy there in 1973, David Bowie returned to London's Hammersmith Odeon in aid of the Brixton Neighbourhood Community Association.

Today is also the official release date of Denis O'Regan's Ricochet, a bloody great big boxed set of 5 books, an exclusive vinyl 12", 3 signed prints all beautifully designed and housed in an enormous acrylic case...did we say, it's massive?

Anyway, to mark the official release of Ricochet and the anniversary of the Hammersmith show, Denis has kindly given us these exclusive shots from the night.

Here's a bit more about today's release...


+ - + - + - + - + - + - + - + - + - + - + - + - + - + - +

Serious David Bowie vinyl collectors will be in awe of 'Ricochet : David Bowie 1983'. Included in the 15 kilo (33 pound) acrylic cased boxed set of five photographic books by Denis O'Regan is a 12 inch red vinyl single: A-side 'Ricochet', B-side 'Let's Dance', both tracks remastered in 2018 by Nile Rodgers. The vinyl itself - along with the boxed set - is limited to only 2000 copies. It will never be made available outside of this collection, and is released on June 30th 2018, the 35th anniversary of David's 'Serious Moonlight' charity concert at London's Hammersmith Odeon in aid of the Brixton Neighbourhood Community Association.

In addition, the boxed set contains three signed and numbered fine art limited edition prints. Each one is accompanied by a digitally authenticated certificate. Another certificate authenticates and describes the collection within the acrylic case - including the vinyl - and features a David Bowie estate stamp inspired by the 'ex libris' mark that David attached to his personal book collection, designed for Moonlight Books by 'Blackstar' artist Jonathan Barnbrook. It too is invisibly stamped with digitally created DNA and referenced in the Tagsmart online database that can be accessed online by the buyer.

+ - + - + - + - + - + - + - + - + - + - + - + - + - + - +

It also contains a pair of white gloves for cleaner handling. True!

Stay tuned for more exclusives from Denis shortly. Also, check out

www.Itsahugeboxedset.com

to learn more about #bowie1983book.



#DavidBowieRicochet #bowie1983book #DenisORegan



davidbowie.com