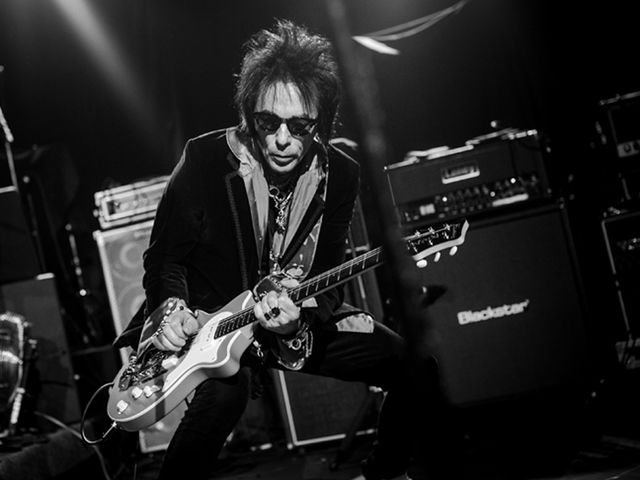 Earl Slick: my 12 greatest recordings of all time





"With David Bowie, we don't nitpick. We knock around some ideas, and we get it done."





Jeff Slate February 26, 2013






Intro

/12

Earl Slick: my 12 greatest recordings of all time



Even though he's worked with David Bowie since 1974, guitarist Earl Slick was as much in the dark as the rest of the world that the Thin White Duke was making his first album in 10 years.

"Unbeknownst to me, David had been recording for a while," Slick says. "He'd been working for a period of about a year before I even got involved. Nobody, even the other band members who I talk to often, ever said anything to me. But it was just an oddball thing: I did a gig in New Jersey and I stayed with a friend. We went for a ride in his Cobra, and the car caught on fire. One of the guys from the newspaper that came to cover the thing recognized me, so there was some press about it.

The next day, Slick received an e-mail from Bowie, asking the guitarist if he was OK. This was followed by another e-mail in which Bowie inquired about Slick's schedule. "And then, over the period of the next 24 hours, we put together the schedule for me to come into the studio," says Slick. "So I have my buddy's Shelby Cobra blowing up to thank for that one. Sucks for him, but that's how it happened."

On 12 March, Bowie's The Next Day will be released, and early reviews are already heralding it as a return to form for the mercurial singer-songwriter. It should also serve as a solid reminder of Slick's guitar prowess, idiosyncratic talents that have made him Bowie's go-to guy for nearly 40 years. John Lennon, too, counted on Slick to add street-rock guitar crunch to his last recordings, and no doubt their relationship would have continued had the events of 8 December 1980 turned out differently.

On the following pages, Slick looks back at some of the key recording sessions that he's been a part of, songs and albums that are at the very fabric of classic rock.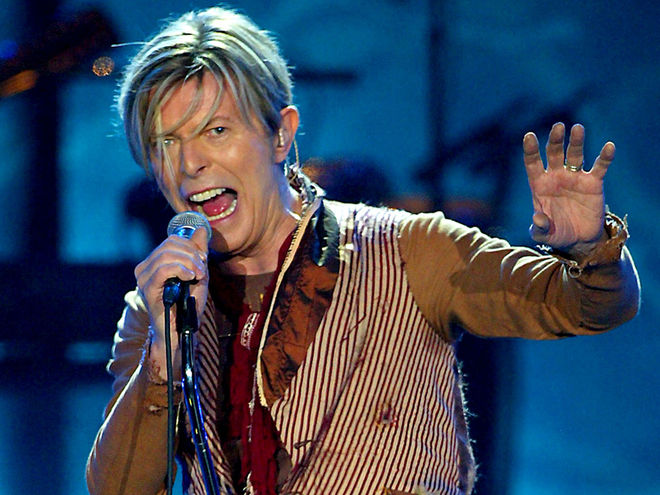 ©IAN HODGSON/Reuters/Corbis





1

/12

David Bowie - Dirty Boy (2013)



From the album The Next Day



"In the studio, even when songs are unfinished, I know when they're good, and let me tell you, this new record of David's is the shit. The tracks were all in different stages. As a matter of fact, we cut three new ones with me, [drummer] Sterling [Campbell], David and [producer] Tony Visconti on bass. I overdubbed maybe another five tracks that were already done but needed guitar. They had Gerry [Leonard]'s atmospheric stuff, but they needed some of my crunch. So I that's what I did, all of it in five or six days.



"With David Bowie, we don't nitpick. We knock around some ideas, and we get it done. As soon as it feels good, we record it. So we always get a lot of work done in a short period of time, and it's always really good work. It was great to reconnect, and it was great to see David looking and sounding so good.

"It's a Bowie record, so I hear a lot of things coming from David's recordings from before and his influences – a little bit looking back and a little bit looking forward. So there's some stuff on there that he really hasn't done before, but it's also touching on elements of things from the past.

"I think it's kind of beautiful that, up until now, only really David and Tony have heard the record. It was a really special experience working with David again, and I think people are going to be knocked out."




2

/12

Phantom, Rocker and Slick - My Mistake (1985)



From the album Phantom, Rocker and Slick (featuring Keith Richards)




3

/12

Tim Curry - I Put A Spell On You (1981)



From the album Simplicity




4

/12

John Lennon - Nobody Told Me (1984)



From the album Milk And Honey




5

/12

John Lennon - I Don't Wanna Face It (1998)



From the album The John Lennon Anthology




6

/12

Yoko Ono - Kiss Kiss Kiss (1980)



From the album Double Fantasy




7

/12

Yoko Ono - Walking On Thin Ice (1981)






8

/12

John Lennon - I'm Losing You (1980)



From the album Double Fantasy




9

/12

Ian Hunter - Wild And Free (1977)



From the album Overnight Angels


©Scott Weiner/Retna Ltd./Corbis





10

/12

David Bowie - Station To Station (1976)



From the album Station To Station



"Station To Station was a really cool track because we were assembling it as we went along. Like on Stay, we really had a pretty tight arrangement worked out, but Station To Station was developed in the studio. Station To Station is really like two songs stuck together; there's the grungy tempo part, and then in the middle it goes up to that uptempo bit. The feedback at the beginning of the track was me and David going through two sets of Marshall stacks in the live room at Cherokee Studios. It was two in the morning, and we were just feeding back like two crazy guys.



"I'm not sure who played what, but there were two guitars going at the same time: a Stratocaster and a Les Paul. For the solo in the second half of the song – the uptempo part of the song – I remember sitting there constructing that with David. It starts off with a Chuck Berry kind of lick, and then we just sat there with two guitars, banging around on things I came up with and working up the solo. So it wasn't comp'd – we composed it, which is something we rarely did to that extent. I remember very clearly sitting there together and composing it. That's a pretty good memory."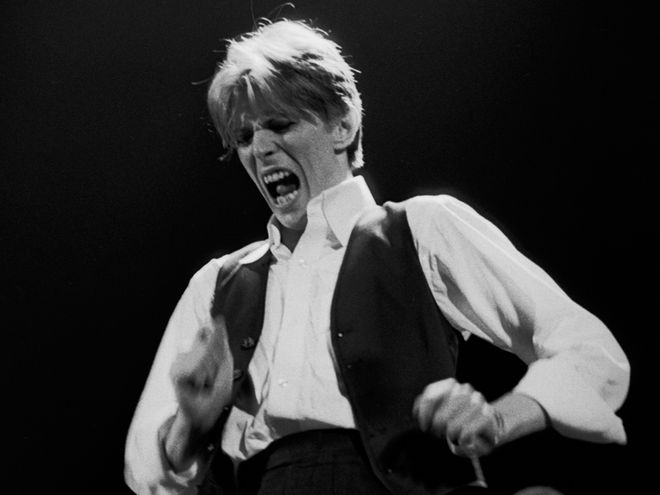 ©Neal Preston/CORBIS





11

/12

David Bowie - Stay (1976)



From the album Station To Station



"It started with a groove, and when I came up with the guitar bit at the front I could tell it would be a monster song. The funny thing about it is, I came up with that lick because we were messing around with an older song called John, I'm Only Dancing. This is kind of foggy, but I think we were working on a new arrangement of it, and David wanted me to come up with a lick, and so I came up with the lick that starts off Stay. So instead of using it on John, I'm Only Dancing, David just wrote something around that lick and groove.



"The rhythm guitar was an early '70s black Les Paul through a late-'60s 100-watt Marshall stack. The lead was on an early '60s Strat. I only owned one pedal, so there's no effects. Just straight through the amp, no master control. Old school. Just turn it up to 10 and blast away."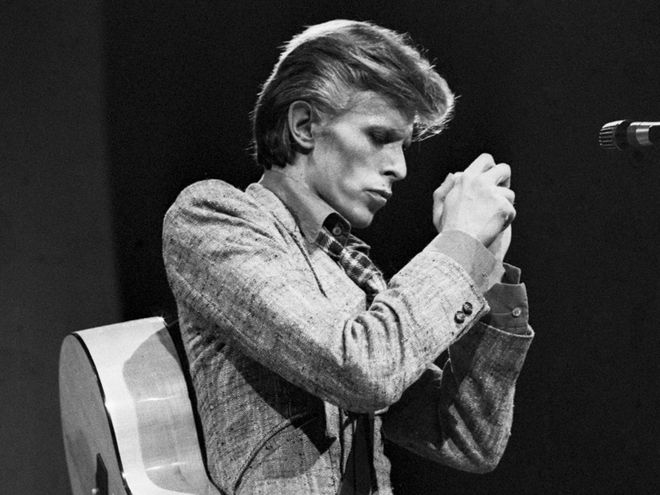 ©Bettmann/CORBIS





12

/12

David Bowie - David Live (1974)





"This is an entire piece of work, rather than just a track, because it's a live album. I was the only guitarist, and it was the tour that followed the Diamond Dogs album. So the first time I ever recorded with David Bowie was a live album. Being on stage with David, David Sanborn, Michael Kaman and Mike Garson was just an amazing experience.



"I was just a kid, only about 21 or 22. I had no idea at the start of the tour that we would be making a record, so my reaction was just, 'How cool is this?'"

MusicRadar